What is sexual dysfunction?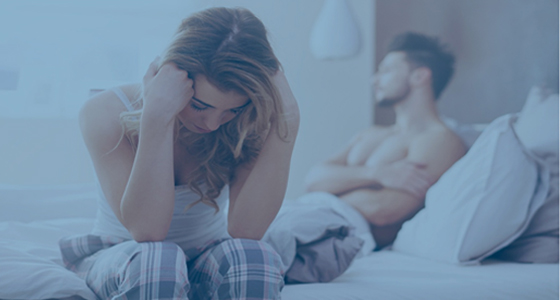 Sexual dysfunction is a problem that can happen during any phase of the sexual response cycle. It prevents you from experiencing satisfaction from sexual activity. The sexual response cycle traditionally includes excitement, orgasm and resolution. Desire and arousal are both part of the excitement phase of the sexual response. While research suggests that sexual dysfunction is common, many people don't like talking about it. Treatment options are available, though, you should share your concerns with your partner and healthcare provider.
Types of sexual dysfunction
Desire disorders: lack of sexual desire or interest in sex
Arousal disorders: inability to become physically aroused or excited during sexual activity
Orgasm disorders: delay or absence of orgasm (climax).
Pain disorders: pain during intercourse.
Who is affected by sexual dysfunction?
Sexual dysfunction can affect any age, although it is more common in those over 40 because it's often related to a decline in health associated with aging.
Symptoms of sexual dysfunction
In men:
Inability to achieve or maintain an erection (hard penis) suitable for intercourse (erectile dysfunction).
Absent or delayed ejaculation despite enough sexual stimulation (retarded ejaculation).
Inability to control the timing of ejaculation (early, or premature, ejaculation).
In women:
Inability to achieve orgasm.
Inadequate vaginal lubrication before and during intercourse.
Inability to relax the vaginal muscles enough to allow intercourse
In men and women:
Lack of interest in or desire for sex.
Inability to become aroused.
Pain with intercourse
Types of Sexual Problems In Men
Weak Erection
Premature Ejaculation
Impotence
Low Sex Drive
Over Masturbation
Penis Curvature
Penis Enlargement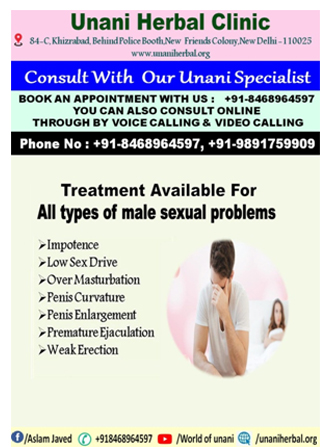 Nomination form for 2021 Global Awards
https://www.unaniherbal.org/nomination-form.html
For Consultation click here
Copyright 2014 Unani Herbal
If you wish to cancel your subscription to this newsletter click here