Enlarged Prostate Gland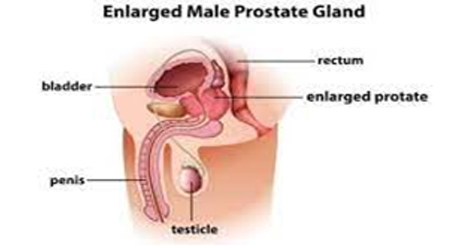 The prostate is a small, muscular gland in the male reproductive system. In many men, the prostate can become enlarged. Sometimes it leads to symptoms and, over time, other complications.
Enlarged prostate gland is a common condition as men get older. An enlarged prostate gland can cause uncomfortable urinary symptoms, such as blocking the flow of urine out of the bladder. It can also cause bladder, urinary tract or kidney problems.
The prostate gland is located beneath your bladder. The tube that transports urine from the bladder out of your penis (urethra) passes through the center of the prostate. When the prostate enlarges, it begins to block urine flow. Most men have continued prostate growth throughout life. In many men, this continued growth enlarges the prostate enough to cause urinary symptoms or to significantly block urine flow.
Symptoms
The severity of symptoms in people who have prostate gland enlargement varies, but symptoms tend to gradually worsen over time.
A weak or slow urinary stream
A feeling of incomplete bladder emptying
Difficulty starting urination
Frequent urination
Urgency to urinate
Getting up frequently at night to urinate
A urinary stream that starts and stops
Straining to urinate
Continued dribbling of urine
Returning to urinate again minutes after finishing
Causes
The cause of prostate enlargement is unknown, but it's believed to be linked to hormonal changes as a man gets older. The balance of hormones in your body changes as you get older and this may cause your prostate gland to grow.
Risk factors for prostate gland enlargement include
Aging
Prostate gland enlargement rarely causes signs and symptoms in men younger than age 40. About one-third of men experience moderate to severe symptoms by age 60 and about half do so by age 80.
Family history
Having a blood relative, such as a father or a brother, with prostate problems means you're more likely to have problems. Diabetes and heart disease. Studies show that diabetes, as well as heart disease and use of beta blockers, might increase the risk of BPH.
Lifestyle
Obesity increases the risk of BPH, while exercise can lower your risk.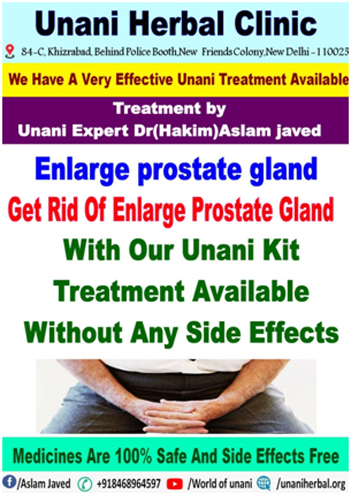 Nomination form for 2021 Global Awards
https://www.unaniherbal.org/nomination-form.html
For Consultation click here
Copyright 2014 Unani Herbal
If you wish to cancel your subscription to this newsletter click here