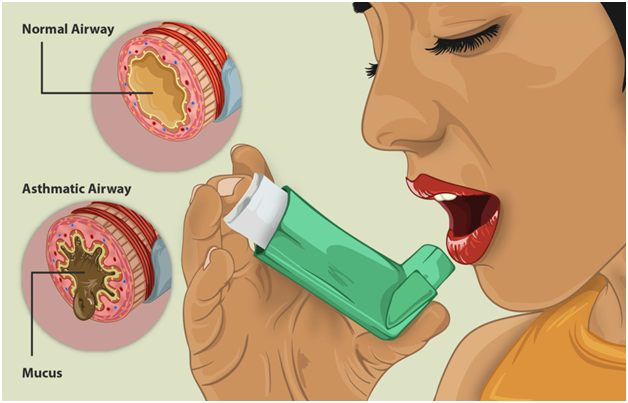 Asthma
Asthma is a condition in which your airways narrow and swell and produce extra mucus. This can make breathing difficult and trigger coughing, wheezing and shortness of breath.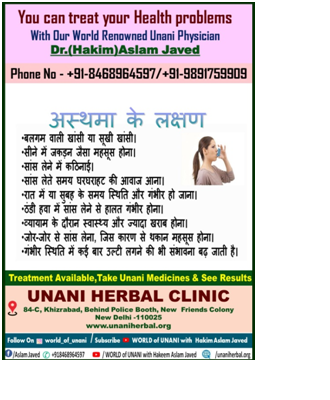 Asthma signs & symptoms
1. Wheezing.
2. Chest Tightness.
3. Breathing Problems.
4. Coughing notably while exercising or while laughing.
5. Unable to sleep due to wheezing and chronic coughing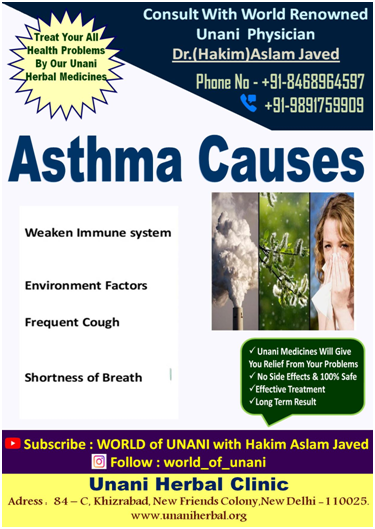 Cause of asthma
GENETICS
HISTORY OF VIRAL INFECTIONS
HYGIENE HYPOTHESIS
EARLY ALLERGEN EXPOSURE
PREGNANCY
OBESITY
ALLERGIES
ENVIRONMENTAL FACTORS
STRESS
HORMONAL FACTORS
Dr. (Hakim) Aslam Javed: The best physician to consult for the Asthma
However, there are many physicians or Hakims sitting in the whole area of Delhi and NCR but before going to take any treatment it is essential to check the most competent one. Dr. Aslam Javed is one of them he has a long history of successful cases, has in-depth knowledge along with 30 years experience in the field of Unani medicines. He personally attends the patients with whole support and care; even take care after the full recovery so that the patient could get the best treatment and the psychological support to get through the disease completely.
He is very sincere in his approach and gives his 100% to every Asthma patient. With his unique and powerful Unani knowledge and treatments he is well known internationally and he has a huge list of foreign patients as well. Dr. Aslam Javed gets personal calls to attend such patients and most of the time go abroad to attend the patients. He is an International face and carries many awards and also a member of many international and national organizations existing.
You can consult him online any time through phone calls, Whatsapp, Facebook, and his knowledge enriched personal website "www.unaniherbal.org, here you will get to know very well about him along with his bio, patents (Unani medicines), achievements, and of course his contribution to the society and the health care system.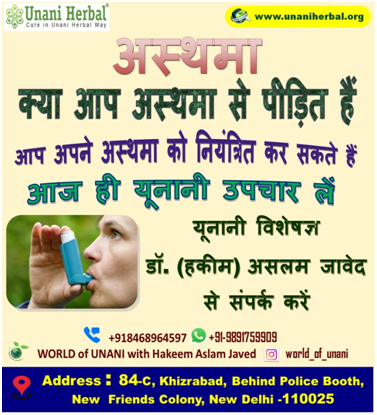 Nomination form for 2020 Global Awards
https://www.unaniherbal.org/nomination-form.html
For Consultation click here
Copyright 2014 Unani Herbal
If you wish to cancel your subscription to this newsletter click here